Walt Whitman – World Poets
Venue: Online – £10/$12 for this online talk
The link giving you access to this lecture will be sent out after your booking has been received. You will have the choice of a YouTube video or a downloadable audio podcast.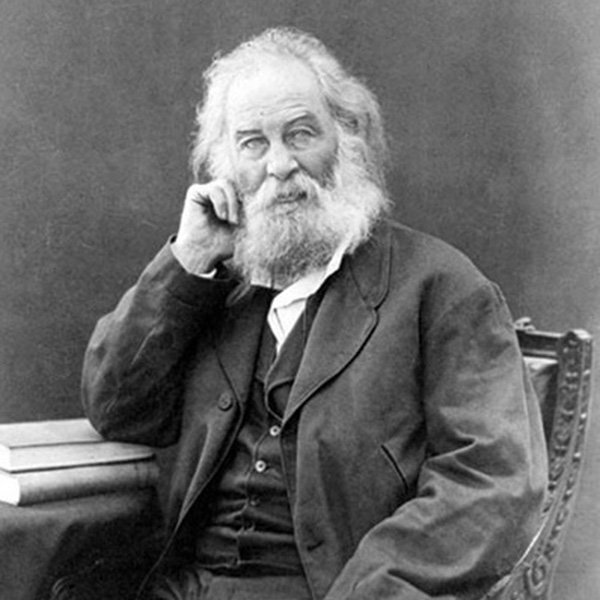 "Graham's enthusiastic and scholarly approach to the background and his eloquent reading of poems – especially 'Out of the Cradle' and 'When Lilacs' – made me look again at Walt Whitman. I've re-read 'Out of the Cradle' to appreciate more deeply now both what it has to say and how vividly Graham had read it".
"Bravo! Well done! A wonderful re-introduction to the life and art of Whitman, especially suggestive as to some contemporary influences on the development of his style. Your lecture reminded me repeatedly what a copious genius Whitman is/was ,- and has sent me straight off to try to write again (after feeling increasingly stale as this Covid thing has gone on.) And all beautifully written and delivered too.. Thank you!" And, twenty-four hours later:
"Whitman really has cleared away some kind of blockage in my own mind . . ."
"Wonderful. Whitman came through without any discernible mediation. Graham's commentary most enlightening too. Especially Walt in the chair and Oscar on the stool. I'm fantasizing Edith Wharton in her Victorian frock looking on. Thanks very much".
"Whitman, the great poet, has meant so much to me. Whitman, the one man breaking a way ahead. Whitman, the one pioneer. And only Whitman".
To access recordings of all ten lectures in the 2020 online series, click on SCHEDULED EVENTS below
Top picture: Walt Whitman in April 1887, by the American painter and photographer Thomas Eakins. Image courtesy of the Yale Collection of American Literature, Beinecke Rare Book & Manuscript Library.
Lower picture: Unknown photographer, Walt Whitman, 1871. The Granger Collection, NYC
Your booking will be acknowledged promptly and you will receive a link to the talk.