Venue: The Great Chamber, Sutton House, 2&4 Homerton High Street, London E9 6JQ
(map below)
THIRD NIGHT OF THE 2020 SEASON OF GRAHAM'S SUTTON HOUSE POETRY NIGHTS
England and Wales tour 2020. Go to Events page to sign up for the newsletter to get advance information of dates and places, and check my current Scheduled Events.
Pushkin, in the West thanks to Tchaikovsky, is indirectly revered as the creator of Eugene Onegin, in a verse novel of that name whose virtuoso poetic performance is fired by the ingeniously sprawling 14-line rhyming stanza Pushkin devised for it and whose insights into romantic love are wonderful.   But then there are his song-like poems, his chamber drama with a vast backdrop, 'The Gipsies', and his gripping swan-song masterpiece, 'The Bronze Horseman', perhaps the greatest legend ever to come out of St Petersburg.
Dostoyevsky said that although there had been other men, like Shakespeare, Cervantes, and Schiller, whose genius had been "of enormous greatness, show me just one of those great geniuses who possessed such a capacity for universal empathy as did our Pushkin".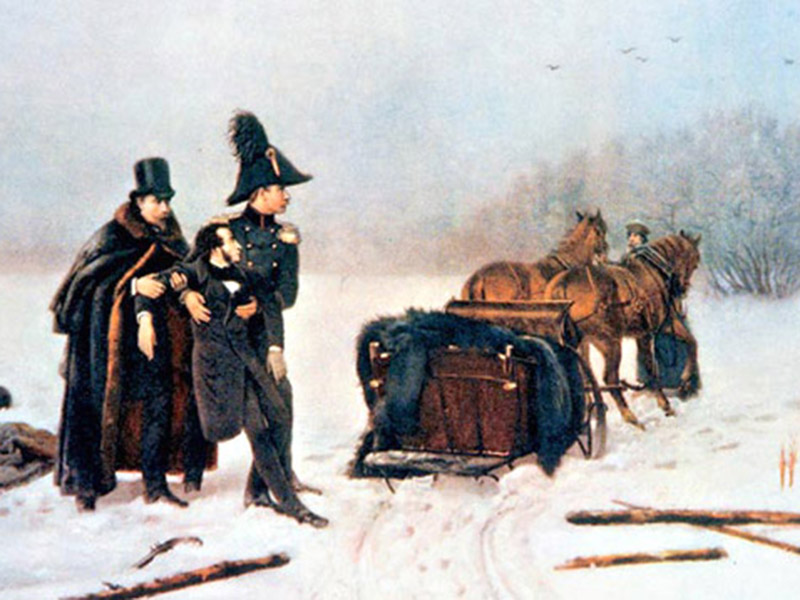 "Thank you for a sensational evening of Pushkin – a great performance"
If you need more than one ticket, use the browser back button and add more or click on the shopping cart above and change the quantity.
Tickets will also be available at the door on the night for cash payment.
This is one of six new lectures by Graham in the Great Chamber at Sutton House from April to September 2020. See Events Currently Scheduled for full information and booking for each talk. The complete series features:  
Top picture: Ilya Repin, Alexander Sergeyevitch Pushkin recites his poem before Gavrila Derzhavin during the Tsarskoye Selo Lyceum exam on January 8th, 1815 (1911).
Lower picture: Alexander Alexandrovich Naumov, Duel of Pushkin (1850)