Venue: Sladers Yard, West Bay, Bridport, Dorset, DT6 4EL
(map below)
This evening is for all of you who read and love poetry, whether or not you have yet discovered D H Lawrence as a poet and not only as the author of Sons and Lovers, The Rainbow and other novels.
If you have ever read a poem by him, the chances are that it may well have been the unforgettable early portrait, in word, picture and sound, of Lawrence remembering a woman playing a piano, beginning:
Softly, in the dusk, a woman is singing to me;
Taking me back down the vista of years, till I see
A child sitting under the piano . . .
or maybe the intensely relived-moment-by-moment drama of a snake in Sicily:
He drank enough
And lifted his head, dreamily, as one who has drunken,
And flickered his tongue like a forked night on the air, so black,
Seeming to lick his lips . . .
or, perhaps especially, the great late poem – one of his finest – which takes the idea of Bavarian gentians and extends it into the underworld lives of Persephone and Pluto as though that link were the most natural thing in the world:
Reach me a gentian, give me a torch!
Let me guide myself with the blue, forked torch of a flower
down the darker and darker stairs, where blue is darkened on blueness . . .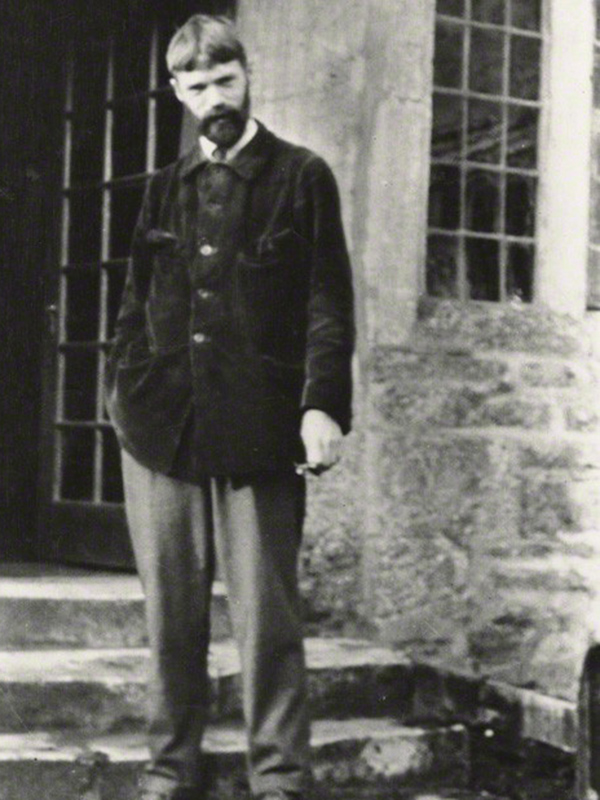 ​But then Lawrence, who called his 1920-23 collection Birds, Beasts and Flowers, was eminently a poet of nature (among many who came after, Ted Hughes and Sylvia Plath both admired him for it) and of so much more than that. D H Lawrence, Poet Night  will take up the story of how much more !
"Life is a travelling to the edge of knowledge, then a leap taken. We cannot know beforehand".
D H Lawrence, Reflections on the Death of a Porcupine And Other Essays
"A most enjoyable and enlightening lecture. During the evening, I wondered if the snake was really there."
Tickets £12.50 or £30 with dinner from 5.30/6 pm
Top picture:  John Menard, Mt. Etna and Taormina as seen from the Ancient Theatre of Taormina
Right picture:  Ottoline Morrell, D H Lawrence, 1915