Anna Akhmatova – World Poets (External)
Venue: Cafe Sladers, West Bay Road, West Bay, Bridport, Dorset DT6 4EL
Anna Akhmatova's was one of the most dramatic lives in the history of poetry. She lived through the Russian Revolutions of 1905 and 1917 when she was 16 and 28. Her ex-husband was executed by firing squad when she was 32. Stalin had her son repeatedly imprisoned as part of a campaign of persecution against her. She endured the bombardment prior to the Siege of Leningrad in 1941 with the inspirational mother-courage of Delacroix's Liberty Leading the People, broadcasting to the women of Leningrad – we have the stirring transcripts – and on air-warden duty with a gas-mask slung over her shoulder.
No sooner was the war over than Akhmatova was 'officially' vilified in public in 1946 by Stalin's sidekick Zhdanov as the epitome of the anti-State artist and intellectual, "poisoning the youth with the pernicious spirit of her poetry". Nearly twenty years later, Akhmatova, begowned in the purple of a Doctor of Literature, stood next to Siegfried Sassoon in Oxford's Sheldonian Theatre to hear the Public Orator compare her to Sappho.
At the end of her life, Akhmatova looked back gratefully at what she had been through: "I never stopped writing poems. In them is my link with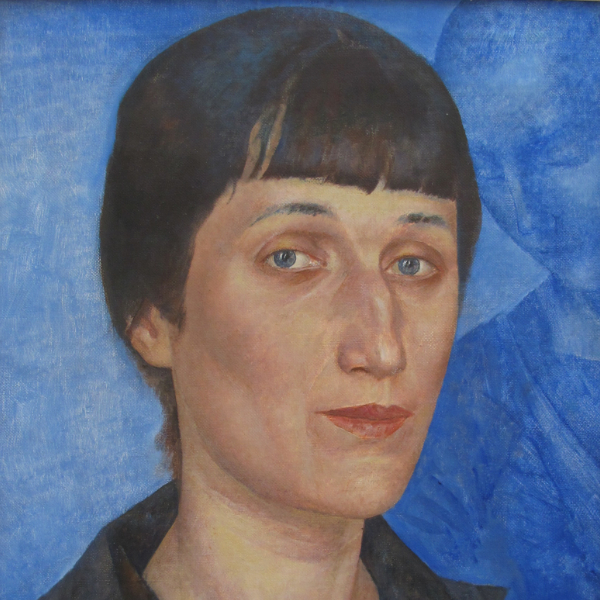 time, with the new life of my people . . . I believed in the resounding rhythms reflected in the heroic history of my country. I am happy that I lived in these years and saw events which cannot be equalled".
"The young girl who reinvented herself as Anna Akhmatova", wrote Elaine Feinstein, "would become one of the two greatest female poets in Russian literature; the other, Marina Tsvetayeva, would crown her with the title "Anna of all the Russias."
We in Britain recognise her as one of the greatest poets of the 20th century. What is more, the relevance of her life to ours in the 21st becomes more remarkable with every day that passes !
"Splendid, and gripping".
"A fascinating lecture. People were enthralled and totally engaged".
Tickets £12.50 or £30 with dinner from 5.30/6 pm
Top picture:  Nathan Altman, Portrait of Anna Akhmatova, 1914
Right picture:  Kuzma Petrov-Vodkin, Portrait of Anna Akhmatova, 1922